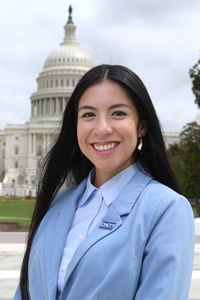 MEET ANTOINETTE
Hi! I'm a first-generation (Mexican-Vietnamese) college graduate who loves to consult in financial literacy, academia, and career preparation. I had little to no knowledge of my options after high school, but through the right mentoring, tutoring, and opportunities, I graduated in four years on multiple scholarships from a top-rated university. After four years of tutoring for wealthy clients and working in financial policy, I founded Dao Academic Consulting to help students and professionals budget and prepare for academic and career success. 
I've Been There
Ninth and tenth grade are the most important years of high school. At the time, I didn't realize I should be joining clubs, seeking leadership roles, taking advanced classes, or polishing my college resume. I spent those years as a teen runaway, preoccupied with work and family issues in addition to balancing school. During my junior year, I received intense mentoring and tutoring that influenced my desire to go to college. In my senior year, I was selected for an internship at a Fortune 500 company, where I was surrounded by working professionals with college degrees. I decided to get serious about applying to college, which meant getting serious about financial literacy. Neither I nor my parents could afford $80k tuition and cost of living, and even thinking about repaying a loan that size made me feel sick. With the help of amazing teachers and mentors, I spent all of senior year applying to need-based and merit-based scholarships. As a result, I graduated high school as a registered homeless student with 10 different scholarships, which covered full tuition and cost of living at the University of Texas at Austin.
In college, I struggled to adapt to the rigorous coursework and navigate my major as a first-gen student. I even lost some of my scholarships during freshman year. Gradually, I learned how to study and ask for help. I served as a student government representative, a research assistant in the UT College of Education, and a J.J. Pickle Fellow in the UT Department of Government. I conducted research on Santeria in Havana, Cuba on a UT-sponsored scholarship and studied social entrepreneurship in Beijing, China as a Fund for Education Abroad scholar. I worked 30+ hour weeks as a private tutor for wealthy families and policy director in school finance at a government relations firm, all while maintaining full-time student status. In summer 2019, I graduated with a B.A., in Government and moved to Washington, D.C., to work in the U.S. House Financial Services Committee as a Congressional Hispanic Caucus Institute Fellow. I successfully financed this move and founded Dao Academic Consulting from the money I had saved by strict budgeting.
I Can Help
I personally know how confusing, frustrating, and even frightening it is to navigate and budget for academic and career success. Most academic consultants focus on just making A's and getting accepted to college, but few focus on financial literacy and career mobility during and after college. This conversation is increasingly important, as the average U.S., student graduates with at least $26,900 in debt. Especially for first-gen students and minority professionals, financial literacy and management is crucial for closing the wealth gap and fostering community and generational wealth. As a first-gen and multi-ethnic woman, I understand that money is a sensitive topic in many minority and immigrant families that primarily work to survive. Money, education, and career are still touchy topics in my own family.
Everyone deserves an affordable pathway to college and a successful career. I specialize in guiding students, families, and professionals toward their best options, whether it's planning for college or landing a dream internship or job. I tutor general K-12 education and study habits, brainstorm and edit college essays, update college and professional resumes, provide tips and mock interviews for landing prestigious internships, scholarships, and fellowships, and create personalized academic and career plans. Please contact me to schedule a free consultation.